the gym for fitness in Fort Myers
Krav Maga, Weapons Disarmament Seminars, Boxing, Gracie Jiu Jitsu, Olympic Lifting, Kettlebell training and much more!
HAVE YOU EVER EXPERIENCED:
INTRODUCING OUR TRULY REDEFINED
GROUP FITNESS & DEFENSE TRAINING
We make sure that every single person that joins our community feels welcomed and leaves every single workout feeling more confident in their bodies than ever before. This is a community that is based on helping each other achieve their goals.
Our friendly, world-class trainers will eliminate the guesswork in your workouts, coach, and guide you through challenging (but really fun) workouts. We will provide the perfect combination of coaching and accountability, allowing you to focus on what matters most.
Finally! You can rest easy knowing that our team and fitness community will help you stay accountable and implement the PERFECT strategies that will GUARANTEE you to achieve your health and fitness goals. No More Guess Work. Only Results!
WE FOCUS ON PROVIDING YOU
Our Krav Maga Classes at New World Defense and Fitness combine the best total-body workouts with real-world self-defense. You'll push yourself like never before and walk away with an incredible set of skills that could save your life in any situation.
Adopted as the official fighting system of the Israeli Defense Forces, Krav Maga has spread around the world as the most effective way for everyday men and women to train. Learn more today!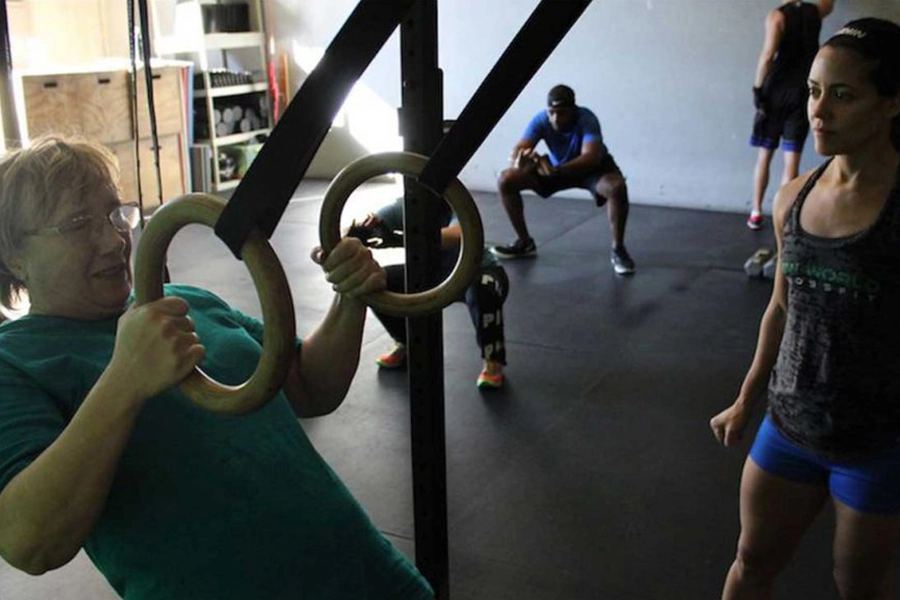 After many years in the fitness industry and experimenting with all kinds of programs, we found our New World Functional Fitness program to be second to none. This cutting-edge practical fitness class is the perfect complement to our real-world style of self-defense and is guaranteed to get you the fastest results possible. And the best part is: Our Functional Fitness Classes in Fort Myers are perfect for all experience levels. No intimidation. No expectations. Just you getting fit one day at a time.
Choose from our traditional Functional Fitness classes or our metabolic Functional Fitness unloaded program and make it happen today!
Whether you're training for real-world self-defense, the competition setting or a just an effective total-body workout, our Gracie Jiu-Jitsu Classes in Fort Myers have got you covered.
At New World Defense and Fitness, you can master the art of ground grappling and learn how to overcome an opponent of any size using superior leverage and technique.

There's simply no better way to develop a well-rounded level of Health & Fitness without proper a nutrition plan.

We work one-on-one with you to create a fully customized nutrition plan that is tailor-made to your specific body. Pair this with one or multiple of our fitness programs listed above and you will feel the difference.
So if you want to UNLOCK SUCCESS then click that Get Started Button and Take Action!
There's simply no better way to develop well-rounded skills than with a cutting-edge Boxing lesson. Join us at New World Defense and Fitness and see if you've got what it takes with our Boxing Classes in Fort Myers.
You'll take on the best blend of strength training, speed and agility work, and cardiovascular endurance. Get started today!
"We are all here to help each other and you are not gonna be 100% the first time you try it, but when you keep coming, you learn to meet people, you get better at it, you build up endurance, you build up your strength. It's gonna take time but everything in life is a journey and this is just part of that."
"Everybody understands that we are all at different levels and everyone has a different fitness journey. There is no judgements and no intimidation here."
Why You'll Love Training With Us
WHAT YOU GET AT NEW WORLD
When you train with us, you can rest easy knowing you're getting the best instruction in Fort Myers. Our coaches are dedicated to helping you stay safe and achieve your goals in no time.
We pledge to maintain a safe and supportive environment every time you're with us. We take pride in offering a family friendly setting where people of all backgrounds can come together.
We are filling the middle ground between fitness and self-defense because we believe your gains should mean something. Build a more functional strength with us.
At New World, our community is our greatest strength. You'll make lifelong friends to help inspire, challenge and motivate you. We train together, socialize together, and inspire each other to do our best and achieve our best!
Log your workouts and track improvements through our FREE smartphone app. Monitor your progress, record your personal achievements, engage with other members, and get feedback from your coaches.
A lot of gyms offer gimmick programs that produce short-term results. That's not our goal. We're here to help you achieve sustainable success and we prove that every day with a support system that pushes you to be at your best every time you train.
Do you dread going to gym because you're just not in great shape? Maybe you avoid it all together. Put an end to those days. Our doors are open to people of all shapes and sizes and we're committed to making your goals a priority, no matter what they might be.
At New World Defense and Fitness, not only will you have access to the best coaches in town – you'll also enjoy a safe and secure facility where you have every resource at your finger tips. Feel safe when you train and make the most of each workout with us.
As well as being great physical training coaches, we love sharing nutrition advice with our clients. After all,  you get out what you put in! Find out how eating well can make a huge difference to your results.
Confidence is built through accomplishment and there's no better way to celebrate everything you achieve than with our team. We challenge each other to stay motivated and locked in, but we also take pride in watching each person succeed. Join the family today!
At New World Defense and Fitness, we help you think tactically and strategically so you are ready to defend yourself and your family at any moments notice!
WiFi is available to all members and guests during open hours so you're never disconnected! Sit back and enjoy post-workout free time, or settle in after work before you hit your WOD (workout of the day).
WE ARE PROUD TO HAVE THE BEST DEFENSE & FITNESS TRAINING FACILITY IN FORT MYERS, FLORIDA.
This place is amazing! It is my favorite place. Everyone is very friendly. Coaches (Juan, Alex, Jen ,Liz , John & Will)  care about your fitness goals, ability & your safety. They are also very very attentive to every member while you are working out. Members are also very encouraging & very helpful which I loveeee.  Such a great box!!! Coming here is my " me time" .Highly highly recommend New World Crossfit for anyone interested getting in shape & who want to have fun at the same time!!! BTW good music too 🙌😁🏋‍♀️😘😘
"After 5 months at this fitness center. This amazing place has coaches who train people from a wide range of perspectives. Each coach is unique in their methods of training but all that lead to one ultimate goal of providing a great fitness experience. These guys are great motivators and fitness role-models. Apart from CrossFit, this gym provides a wide variety of fitness training options that include Krav Maga, Jujitsu, boxing, and Olympic weight lifting. Though this place is a fitness center, I have made good friends and connections here, it is like having another family. I am glad that I picked this place for improving my quality of life."
NEW WORLD DEFENSE & FITNESS
WE HAVE A WIDE VARIETY OF EXPERT LED GROUP CLASSES SO YOU CAN WORKOUT DURING THE BEST PART OF YOUR DAY
WE PARTNERED WITH THE BEST COMPANIES TO OFFER YOU THE BEST
GIVING YOU THE ADVANTAGE IN THIS NEW WORLD
Post Workout And Recovery Bundle
NEW WORLD DEFENSE & FITNESS
12995 S Cleveland Ave Suite 145 Fort Myers, FL
THE NEW WORLD DEFENSE & FITNESS TEAM
WE ARE PROUD TO BE KNOW AS THE Fort Myers'S NUMBER 1 MOST DEDICATED COACHING STAFF.

WE ARE HERE TO HELP YOU REACH YOUR GOALS. WHETHER YOU NEED HELP WITH FITNESS OR NUTRITION, WE ARE HERE FOR YOU.
"Motivation is a fire from within. If someone else tries to light that fire under you, chances are it will burn very briefly."
-Stephen R. Covey
USKMA 3rd Degree Black Belt and certified instructor
Krav Maga Instructor Course Wingate Institute (Israel)
Krav Maga Certified Weapons Instructor
CrossFit L2 Coach
CrossFit Mobility
USAW Club Coach
World Kettlebell Club Trainer
Gracie Jiu Jitsu Brown Belt
Certified Personal Trainer
CPR/AED
"Strength does not come from physical capacity. It comes from an indomitable will."
-Mahatma Gandhi
USKMA 3rd Degree Black Belt and certified instructor
Krav Maga Instructor Course Wingate Institute (Israel)
CrossFit L2 Coach
CrossFit Gymnastics
CPR/AED
"The will to win, the desire to succeed, the urge to reach your full potential…these are the keys to unlock the door to personal excellence."
-Confucius
USKMA Certified Instructor
Certified home firearm safety instructor
Certified pistol instructor
Range safety officer
CPR/AED
"Don't be afraid of death; be afraid of an unlived life. You don't have to live forever, you just have to live."
-Natalie Babbitt
MMA/Boxing fighter
Heavy Weight Champion
Lost over 150 lbs to become a fighter
Recruited to play D1 Football
"The only thing necessary for the triumph of evil is for good men to do nothing."
–Edmund Burke
USKMA Certified Instructor
SABRE Personal safety academy instructor
NRA Basic pistol instructor
NRA Personal Protection in the home instructor
NRA Home firearm safety instructor
NRA Refuse to be a victim instructor
NRA Chief range safety officer
"Always assume that your opponent is going to be bigger, stronger and faster than you; so that you learn to rely on technique, timing and leverage rather than brute strength"
-Helio Gracie
Black belt third degree formed by Royler Gracie and Rolker Gracie, sons of the Grandmaster Helio Gracie in Gracie Humaita Academy, Rio de Janeiro, Brazil.
Teacher graduate of the IBJJF – International Gracie Jiu-Jitsu Federation.
"A river cuts through rock, not because of its power, but because of its persistence"
-James N. Watkins
USKMA Certified Instructor
CrossFit L1 Coach
CPR/AED Certified
THE NEW WORLD DEFENSE & FITNESS MISSION
THIS WILL BE AN ABOUT US PARAGRAPH IF NEEDED